What is a Password Manager?
A password manager securely keeps track of all your passwords. It's the only way to create unique passwords for all your accounts, remember them, and have them typed for you online.
How Do I Set It All Up?
To set up an account, you'll use your email address and will need to come up with a master password—a long, random, complicated one.
Next, you'll have to let the password manager know about your various accounts. You'll be able to either import passwords you've stored in your browsers or have the manager store your username and password the next time you log in to a site, or enter the information manually.
Why is Dashlane ranked #1?
Never Forget another Password- Add or import passwords, or save them as you browse the web.
Never Type another password- powerful autofill types your passwords on any website, saving you an average of 50 hours per year.
Instant Security alerts- Instant security alerts are sent straight to your computer or phone when sites suffer breaches.
VPN for Wifi protection- Protect yourself online—anywhere, anytime. Dashlane encrypts your online activity on unsecure WiFi and other networks to always keep your personal information safe and private.
Dark Web Monitoring & Personalized Alerts- Dashlane scans the web for leaked or stolen personal data and alerts you instantly if your information is found where it doesn't belong, so you can take action fast.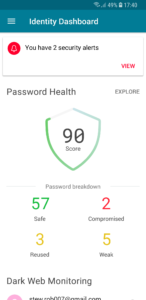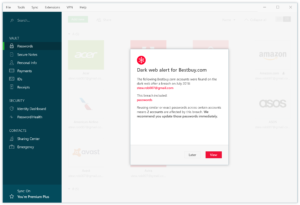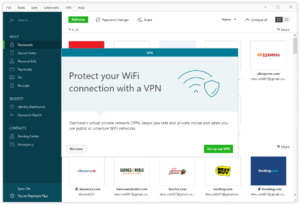 Don't Just Take our Word for !
Neither Dashlane nor a hacker (or government agency) breaking into the company's systems could access your data without knowing your master password.